Recently completed
This section details our recently completed projects.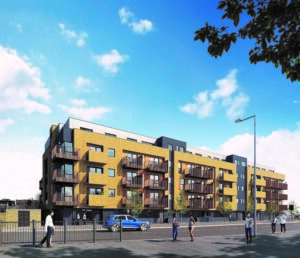 Buxton Road
Project Manager: Juanita Folarin
Consultant: Philip Pank
Contractor: Bugler
Borough: Waltham Forest
Buxton Road is a former cinema, located within the St James Conservation area of Waltham Forest. It is a medium sized development of 48 Shared Ownership homes and is being marketed as Dominion Apartments.
---
Hale Works
Project Manager: Sarah Timewell
Consultant: Calford Seaden
Contractor: Anthology
Borough: Haringey
Hale Works is a 32 storey tower  built within Hale Village in Haringey, minutes from Tottenham Hale station. Alongside residential flats, there are retail and catering units. Although the majority of the flats are for private sale, Newlon is offering 44 Shared Ownership homes.
---
Millstream Tower
Project Manager: Angela Wint
Consultant: Calford Seaden
Contractors: Kier
Borough: Haringey
On the site of a former garage, Station Square will deliver 117 Shared Ownership and 11 private sale homes.
This is be one of the first developments to be delivered as part of the Tottenham Hale Masterplan.
---
Alma Phase 2
Project Manager: Marian Adu
Consultant: Martin Arnold
Contractor: Countryside
Borough: Enfield
This forms part of the regeneration of a former council estate. The master plan includes around 1000 new homes, a youth centre, a community hall, a gym, a health centre and local shops. On completion, there will be 199 Shared Ownership, 200 rented and approximately 600 private homes.
Newlon is providing 54 Shared Ownership homes as part of this phase.
---
Thomas Road
Project Manager: Marian Adu
Consultant: MDA
Contractor: Bellway
Borough: Tower Hamlets
A canalside development within Tower Hamlets of 184 homes.
Newlon are providing 14 Shared Ownership, 6 Intermediate Rent and 37 Affordable Rent homes at Thomas Road.