Groundbreaking developments
We are very proud of all our schemes that we develop for the communities of north and east London. This section highlights just a small number of our previous developments and major regeneration projects.
We are very proud of all our schemes that we develop for the communities of north and east London. This section highlights just a small number of our previous developments and major regeneration projects.
Hale Village
Hale Village contains 542 new affordable homes in four distinct areas as well as our Group Headquarters. These 542 homes include 185 available for New Build HomeBuy (Shared Ownership) in a mix of one, two and three bedroom apartments, as well as homes for Key Workers (Intermediate Rent) and those on local authority waiting lists (General Needs).
---
Barnsbury Estate
The Barnsbury Estate was our first stock transfer and our management of this Islington estate is notable for two main reasons: First, we completed a five year, £20m refurbishment scheme a whole year ahead of schedule. And second, our involvement in the estate has benefited from a very close partnership with the residents.
Consisting of 646 homes, the 1930s-built estate had suffered from several years of neglect. Then, in 1999, an overwhelming 82 per cent of residents voted for the estate to be transferred to Newlon. This ballot followed a period of extensive consultation, in which a schedule of works was agreed and prioritised.
The refurbishment programme, including replacement kitchens and bathrooms, road resurfacing, the creation of private gardens, new balconies and new security systems, was carried out in partnership with Lovell and MDA.
The Barnsbury Estate is an example of how transfers can work with strong partnership and resident involvement.
---
Barnsbury Community Centre
In November 2009 work was completed on the new community centre on the estate for the residents and wider local community to enjoy.
The community centre replaces the old Grimaldi Hall and after consultation with residents it was decided that the centre should be a one stop shop for all estate based enquiries and contain a multi-purpose hall providing modern facilities for residents and community groups.
Our Community Services team runs a wide range of activities and services from the centre.
The new hall is a modern, light-filled community resource comprising a large hall, a smaller hall (both with access to safe external space), office accommodation, interview rooms, a seminar room, toilets and baby changing facilities, a kitchen opening up into both halls, a reception area and a courtyard.
---
Horseferry Road
Horseferry Road was our first Shared Ownership scheme, which we built in 1992.
Located at Limehouse Basin, E14, the £2.5 million development comprises 42 homes, many overlooking the River Thames.
Some the area was also improved: A neglected communal space at the scheme was renovated by laying cobble-stones and cutting down some trees to make it a more desirable area for residents and provide a better environment.
---
The Arsenal Regeneration Programme
The Arsenal Regeneration Programme is providing more than 1,400 new affordable homes in an area stretching from Highbury in the east to Caledonian Road in the west. Uniquely for a scheme of this size in inner London, more than 50% of the new homes being built are affordable and are provided by us.
---
Queensland Road
Project Manager: Angela Nevin
Consultant: MDA
Contractor: Kier
Borough: Islington
About Queensland Road
Located next to Emirates Stadium, Queensland Road provides over 700 new homes, with 352 affordable and managed by us. The large number of affordable homes at Queensland Road makes it the biggest single development project in the Arsenal Regeneration Area and is a fitting finale to this amazing project.
Like the rest of the area Queensland Road is more than just housing. The development is the home of the new Arsenal Sports Centre that is a venue for the Club's educational and social inclusion community programmes, as well as for local residents.
Our homes are a mixture of Shared Ownership (part buy-part rent) and affordable rented family accommodation.
The south block consists of 179 rented and 32 Shared Ownership homes, while the north block contains 141 Shared Ownership properties.
---
Moira Close
Moira Close, in Haringey, is the location of 12 of our energy saving homes. They each contain green features, which help reduce fuel use and carbon dioxide emissions.
Green features at the houses include conservatories, triple-glazed timber windows, solar shading, solar panels and condensing gas fired boilers, all in an effort to reduce the homes' impact on the environment.
The homes have a well insulated timber frame construction and timber windows with argon filled glass, which provide good insulation to the homes. This cuts down on the need to use central heating, which reduces utility bills. The homes with habitable rooms on the south side of the properties were fitted with larger windows than the kitchen and bathrooms on the north side, which have smaller ones. This increases solar gain for the south facing windows and reduces the amount of heat loss for north facing rooms, thus retaining heat. The homes also feature a lobby at the entrance to each house which helps reduce heat loss through the front door.
Efficient condensing gas boilers are also used at the properties. These are controlled by a thermostat and have a seasonal efficiency of over 90%. The radiators have thermostatic valves that turn the radiators off automatically when a room is warm enough and switches them on as a room cools down.
During the summer months, the solar panels situated on the south facing roofs use the sun's warmth to provide the majority of the hot water needs of the houses. Throughout the rest of the year the solar panels provide approximately 40% of the homes' hot water requirements, the rest being provided by the boiler. Solar panels are an expensive initiative but are good value over the long term with the reduced fuel costs, as well as having a positive impact on the environment.
Two of the homes at Moira Close have unheated south sided conservatories to act as a buffer space to prevent heat loss. These also feature solar shading to ensure they do not overheat during the summer months, so the floor space can be constantly used as another room.
---
Royal Free
We worked with the Royal Free Hampstead NHS Trust, London Borough of Camden, and developers, United House, to build new accommodation and refurbish two existing blocks of housing for the hospital's staff.
Queen Mary's House
The work at Royal Free Hospital started with the refurbishment of Queen Mary's House, which was completed in 2006. This involved upgrading 50 apartments and communal areas in this accommodation block, sited to the north of the hospital's main campus. This was followed by the major demolition project of William Gunn House, which has been developed into a brand new building for hospital staff called Coppetts Wood House.
Coppetts Wood House
Coppetts Wood House (pictured) consists of 141 units including one and two bedroom apartments, as well as studio flats for single occupancy. The 10 floors of the building help to provide double the amount of accommodation that was available at William Gunn House, helping to keep the staff from the hospital in the community in which they work.
On Monday 20th October, 2008, HRH The Duke of York, KG, Patron of the Royal Free Hampstead NHS trust
officially opened Coppetts Wood House. On his visit to the development HRH The Duke of York was impressed by the accommodation available to the staff at the hospital. He said: "I am delighted to support this development as Patron of the Royal Free Hospital . I know it will provide much-needed affordable accommodation to dozens of staff at the Royal Free, and that's crucial if we are to continue to attract high quality employees to London."
As well as providing new and affordable housing we also wanted to help the environment at this development. To achieve this we installed a "green roof" at Coppetts Wood House. This means that the roof area of the building is covered with vegetation and soil which helps to retain heat and attract birdlife.
Anne Bryans House
Anne Bryans House was a building that had gone into disrepair. In partnership with United House we refurbished the 1960s concrete clad tower to provide housing for more than 180 hospital employees.
---
Neighbourhood Resource Centre, Northumberland Park
Our project at Northumberland Park in Haringey is unique as we did not build any housing. Instead we developed a Neighbourhood Resource Centre (NRC) to make innovative use of redundant buildings to benefit the community.
The centre at Rothbury Walk serves as an invaluable resource for local residents who were living in an area of multiple deprivation. The centre offers a wide range of services for the local residents including employment skills and training, legal advice and health services.
We are very proud of this scheme as it benefits the community and this has been proven by the awards that it has won – in 2005 it was awarded the Haringey Design Award and in 2004 it was a shortlisted finalist in the Deputy Prime Minister's Sustainable Communities Award.
---
Century Court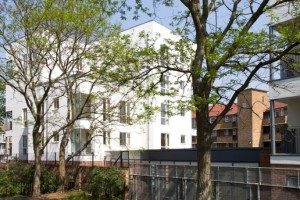 Working in partnership with Outward and Hackney Council, this 'extra care' home at Mount Pleasant, in Hackney, consists of 40 units. Built on the site of an older, smaller residential care scheme for the elderly, the development boasts a number of facilities. These include a front of house café managed for the local elderly community by Age Concern, a small in-house shop where residents can stock up on essentials, and a treatment room for occupational therapy. The scheme has a south-facing sun terrace on the third floor with great views over the River Lea towards the City and the Olympic Park. There are also photo-voltaic panels on the roof to provide solar power to the building.
Century Court was the only scheme in London to be successful in getting a special one-off pot of Department of Health funding for providing extra care accommodation. We believe this state of the art development provides residents with the level of care they need, as well as being a community hub to support many other older people in the neighbourhood.
---
Tottenham Town Hall
Project Manager: Sarah Timewell
Location: North London
Consultant: Calford Seadon
Contractor: United House
Borough: Haringey
In March 2011 we unveiled the completed renovations at Tottenham Town Hall that have brought this landmark Edwardian building back to the heart of Tottenham.
In partnership with United House and architects, bptw partnership, we have lovingly restored this Grade II listed building – possibly the first time a housing association has been responsible for renovations of this kind.
The restorations were showcased at an informal event attended by Cllr Claire Kober, Leader of Haringey Council, and David Lammy, MP for Tottenham.
Speaking on behalf of Haringey Council, Cllr Kober said: "We are passionate about restoring our heritage and looking at what has been achieved here through effective partnership working we are confident that even in these tough times we can deliver our aims."
Lee Valley Estates will be managing the legacy of the hall and Chairman Michael Polledri (MBE), said: "This is a wonderful building and the work that has been done here is amazing. The Town Hall is one of the best buildings in Haringey with features such as the Moselle Room – a facility that the community deserves. This regeneration work is part of the wider plan to make Tottenham a sustainable area that we can all be proud of and something that can be achieved if we all work together."
David Lammy MP, who will hold surgeries in the hall said: "I am hugely grateful to Newlon for renewing this fantastic building and ensuring that when we are no longer here that another generation will be able to make use of it."
The works to the hall have included installing a wheelchair ramp and full lift access without damaging the character of the building, and tasks as delicate as replacing tiny terrazzo mosaic floor tiles and restoring the magnificent Moselle Room.
---
Isobel Place
Project Manager: Sarah Timewell
Location: North London
Consultant: Calford Seadon
Contractor: United House
Borough: Haringey
Isobel Place sits on the site of a derelict former depot behind Tottenham Town Hall, by the Bernie Grant Arts Centre and close to Seven Sisters underground station. Centred around two green courtyard spaces, the site includes family homes in restored Victorian workshops as well as new-build homes. In total there are 109 properties of varying sizes – 41 for General Needs rent, and 68 Shared Ownership.
---
Cannon Road
Project Manager: Sarah Timewell
Consultant: Calford Seaden
Contractor: Galliford Try
Borough: Haringey
About Cannon Road
At Brook House we have developed 222 new homes, including 100 Shared Ownership flats in a 22 storey tower block called Rivers Apartments, and 122 lower rise properties for rent.
It is based on the site of the old Cannon Rubber factory close to White Hart Lane and is part of the proposed wider regeneration area around Spurs' new stadium.
The site also provides a new home for the Hartsbrook School, which was formerly based in temporary premises at Tottenham Green.
Records show that in the 13th Century the site was known as Mocking Manor
---
Gospel Oak Court
This is an extra care scheme for older people which has been designed, built and run by Camden Council in partnership with Shaw Care Homes. The development contains 35 extra care flats, five of which have two bedrooms. Residents living there have a tenancy agreement with Outward. Every resident is designated a tenancy management officer from Outward who are on site regularly to help them deal with any issues they may have.
All the flats have:
Their own front door
One or two bedrooms
A living area
A modern kitchen area with a washer-dryer machine, fridge-freezer, oven and hob
A walk-in shower with adaptations such as grab rails and a shower seat if you need them
A sink and toilet
Central heating
The flats are also accessible for wheelchair users.
The following communal facilities are available:
Cafe
Two seating areas for extra care residents
A scooter store
Monthly home meetings
The woodland garden
Lifts to help you move between floors
Recycling store
Waste store
There are further facilities and services available which residents are required to pay extra for, such as chiropody.