About us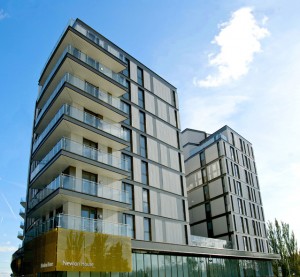 The Newlon Group consists of six organisations: Newlon Housing Trust (the parent company) and five subsidiaries – Outward, Newlon Fusion, NewlonBuild, NewlonInvest and Access Homes.
We all work closely together to provide a comprehensive range of high quality community services.
Newlon Housing Trust is a 'not for profit' Community Benefit Society and a charitable housing association. Newlon owns or manages around 8,000 affordable homes, primarily in eight boroughs in north and east London, with many more in development. These homes are made up of a mix of affordable tenures and we provide housing for people nominated from local authority waiting lists, specialised accommodation for Key Workers and Shared Ownership homes to help people take their first step on the property ladder. Working in partnership with Outward we also provide housing for people with a wide range of support and care needs.
Outward is a charity working with more than 1,000 people who need additional care and support to live their lives and realise their full potential. They provide a range of specialist services for older people, people with mental health issues, young people and people with learning disabilities, including a specialised service that supports people on the autism spectrum. Outward works across north and east London, employs over 400 staff and runs an innovative and award-winning volunteer programme. They also have a subsidiary, the Finsbury Park Homeless Families Project, a specialist organisation providing support services to people living in temporary accommodation.
Newlon Fusion is the Group's community regeneration charity. It works alongside the Trust's Community Services team and with a wide range of partners to support Newlon residents and the people living in areas where Newlon has housing. It also delivers activities and services at the Lascar Wharf community centre in Limehouse.
NewlonBuild is the Group's construction arm. It is a private company limited by shares and provides design, build and development services for the Group. It is also able to invest in market housing. It has an independent chair and is serviced by the Trust.
Access Homes is a small non-charitable housing association which, like the Trust, retains any surpluses to invest in housing activities. Access also provides services to Leaseholders. No staff are employed by Access.
NewlonInvest is a wholly-owned subsidiary of Newlon Housing Trust which makes commercial investments in housing development.
For the 2015/16 financial year the Group's annual turnover was £84.7 million, with a surplus of £13.5 million.
If you want to find out more about us then you can watch the short film we made to celebrate our 40th anniversary in 2008: Newlon Housing Trust – The way ahead.