Milestones
During the 1970s we began to grow beyond our initial area of operation in Hackney and started to provide affordable homes in the boroughs of Enfield and Tower Hamlets. In the 1980s we completed our first new build projects. We then began to expand across north and east London, into boroughs such in Camden, Haringey, Islington and Waltham Forest.
Our first supported housing schemes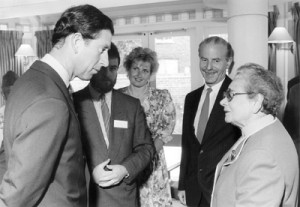 Newlon provides supported housing for people who need additional care and support in their lives. We work in partnership with our sister organisation Outward, a specialist care and support provider, to help people with additional needs to reach their full potential.
We opened our first supported housing scheme in 1976 and in 1986 we acquired the old Mothers' Hospital site in Hackney, which at the time became our biggest new build project. It included the development of a new scheme for the elderly which was opened by HRH Prince Charles.
The first stock transfer
In 1999 the residents of the Barnsbury Estate in Islington voted to become Newlon residents in our first stock transfer. There are nearly 700 homes and a popular community centre on the Barnsbury Estate, which we continue to manage today.
Helping people to buy a home
As well as affordable rented housing we provide Shared Ownership properties – part-buy part-rent homes to help people who cannot afford to buy a home outright to get onto the property ladder for the first time.
In 1992 we completed our first Shared Ownership scheme at Limehouse Basin, E14. The £2.5 million development on Horseferry Road comprises 42 homes, many overlooking the River Thames. In 2008 we completed our first Social HomeBuy, a government initiative, helping people to buy the homes they live in.
For more details of our available Shared Ownership schemes please visit the Newlon Living website.
Regenerating communities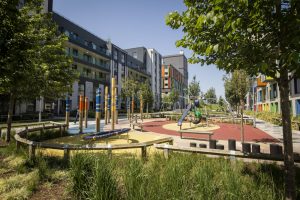 We are proud that much of our history has been as a partner in large-scale regeneration projects, whether it is turning derelict buildings into new homes or transforming whole areas.
In 2003 Newlon signed up as the lead housing association partner in the 'Arsenal on the move' regeneration project, around the football club's old stadium. Initially 439 affordable homes were to be provided, but we now have 1,500 homes across the Arsenal Regeneration Area.
We were also a key part of the transformation of the area around Tottenham Hale, where in 2012 we completed 542 new affordable homes and our Group Headquarters at Hale Village. The eye-catching development also includes a gym, a kidney and diabetes centre, a community centre and student accommodation.
In 2013 we completed the renovation of Tottenham Town Hall, a landmark Grade II listed Edwardian building. Immediately behind this we built the large Isobel Place development, on the site of a derelict former depot.
At the end of 2015 we opened our Cannon Road development, which consisted of 222 new homes, including 100 Shared Ownership and 122 for rent. It was constructed on the site of an old rubber factory close to White Hart Lane and forms part of the wider regeneration area around Tottenham Hotspur Stadium.
In 2018 Newlon celebrated its 50th Anniversary.
Looking to the future
For over half a century we have worked hard to provide new affordable homes to meet the needs of local communities and improve the services for our residents. We look forward to continuing to fulfil these aims, as well as ensuring we are in a strong position to face any challenges ahead.