Barnsbury's Community Garden opens on 25th August
9th Aug 2016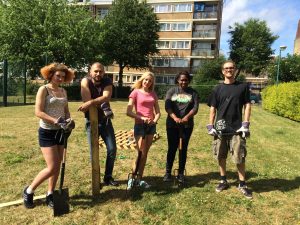 On Thursday 25th August our Community Services team will be hosting the official opening of the Community Garden at the Barnsbury Community Centre.
After two years of hard work from over 450 volunteers we will gather to celebrate Barnsbury Estate's newest landmark.
The event will be complemented by light entertainment, refreshments and a summer barbecue, so come along and enjoy.
It will take place from 12pm-3pm at 12 Jays Street, London, N1 0FE.
Please join us to celebrate and give a big thank you to everyone who has helped create this valuable new communal space.
If you are a keen gardener and would like to get involved, or to find out more about the allotment facilities, please contact Jenefa or Femi on 020 7033 4605 or email community.services@newlon.org.uk for more information.