Cllr Okyener opens landmark regeneration scheme in Enfield
20th Jul 2015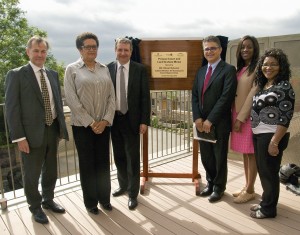 Councillor Ahmet Oykener, Enfield Council's Cabinet Member for Housing and Estate Regeneration, was on hand on the morning of Friday 17th July to officially open Prowse Court and Lord Graham Mews.
Standing on the site of the former Highmead Estate in Enfield, the development includes 118 new homes provided by Countryside and Newlon Housing Trust. Facing onto Fore Street the focal point of the development is the distinctively designed Prowse Court, which provides a mix of private and affordable housing. To the rear are new affordable family terraced houses and the development also includes a purpose-built health centre, a community centre and new commercial spaces for local businesses.
Named in honour of Lord Graham of Edmonton and former Enfield Councillor, Kathy Prowse, this landmark regeneration project is an attractive new focal point for Angel Edmonton, providing a significant boost to the local community and promoting wider investment and regeneration.
Kathy Prowse was an Enfield Councillor for 24 years and her family attended the event.
Councillor Oykener also met one of the first families to move into to the affordable family housing as part of the event and welcomed them to their new home.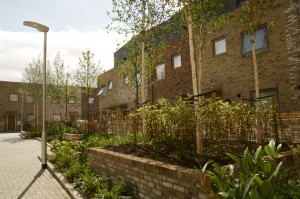 Speaking at the event, Cllr Ahmet Oykener said: "This is a superbly designed development which will be a catalyst for the regeneration of this part of Edmonton. The partnership between Countryside Properties, Newlon Housing Trust and Enfield Council has been a positive approach to build more homes and important local amenities in this neighbourhood."
Richard Cherry, Chief Executive (Partnerships) Countryside said: "Countryside has thoroughly enjoyed working with our partners Enfield Council, Newlon and the community in creating a beautiful new landmark development, which brings much needed affordable housing to the area as well as a new GP surgery, retail and community centre. We wish all the new residents, retail occupants and users of the community centre a very big welcome."
Sarah Ebanja, Chair of Newlon Housing Trust, said: "I am really excited that through working in partnership with Enfield Council and Countryside, we have been able to deliver such an attractive new development with so many additional community facilities. I am confident that it will be a great place to live and contribute hugely to the ongoing regeneration of the area."