Bright New Future at Brook House Primary
1st Jul 2015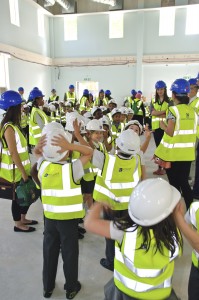 The sponsors of Brook House Primary School, the Lion Education Trust, along with key delivery partners Newlon Housing Trust, the London Borough of Haringey and Logan Construction, hosted a site launch event for all pupils and staff on 26th June, to showcase the new school which is opening in September 2015.  Developed in partnership with Spurs, the £2.7m primary school fit-out is co-located in the new housing development on the site of the former Cannon Rubber Factory.
Aaron Wright, the new school head said: "We are very excited by the opportunity to move into our new wonderful school and can really see how the great working relationship between ourselves as the school, the Trust and the delivery team have raced to get this new school open well in advance of September 2015. We know every child only has chance at a great education and getting it right, every day, in a superb new facility like the new Brook House is what the team and I know will be of benefit to every pupil and their families."
The Trust was delighted to have Cllr. Ann Waters, Haringey's Cabinet Member for Children and Families attend to see how the intervention by the Lion Education Trust in turning the school around from its troubled origins and the move into the new school will create a wonderful local primary school of choice.
Sarah Timewell, Senior Project Manager for Newlon Housing Trust, said: "Newlon are delighted to see how well the project is progressing to provide a new school alongside high quality affordable housing for local people. The delivery of the project by the whole team has been superb."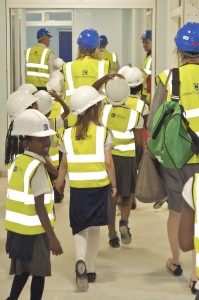 Christopher Stark, Senior Project Manager for Lion Education Trust, added: "The success of this project is down to a combination of our design and school operating experience matched by Logan and our technical advisors' appetite to work collaboratively with Newlon and the Department of Education to keep things on the productive track we see before us."
The new school will open on 5th September 2015. Along with providing space for 420 pupils when fully occupied, the school will also feature a 6.4m high climbing wall and state of the art ICT.