Emiliano Martinez opens Queensland Road
20th Nov 2014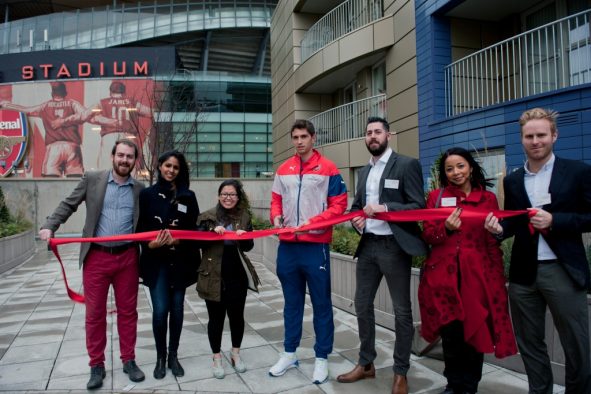 Arsenal keeper Emiliano Martinez stopped off at Emirates Stadium on Thursday to open Queensland Road, the last part of the affordable housing provided by Newlon Housing Trust to be completed in the Arsenal Regeneration Area.
Residents from Queensland Road held a ribbon for Emi to cut in a ceremony held on the communal roof terrace situated beside Emirates Stadium.
Guests at the event included the Leader of Islington Council, Cllr Richard Watts and Arsenal Director, Ken Friar OBE, who both spoke passionately about the positive local impact of the Arsenal Regeneration Programme.
Queensland Road is an architecturally distinctive scheme that provides 352 new homes, 179 for social rent and 173 for Shared Ownership.
With social rents equivalent to about a third of the cost of private renting and Shared Ownership providing people on lower incomes with the opportunity to take an affordable first step on the property ladder, Queensland Road is helping local people afford to live in the heart of Islington.
Overall, nearly 1,500 affordable homes have been provided by Newlon as part of the major regeneration project that supported Arsenal's move from Highbury to Emirates Stadium and Queensland Road marks the end of a 12 year programme of construction.