Every letter tells a story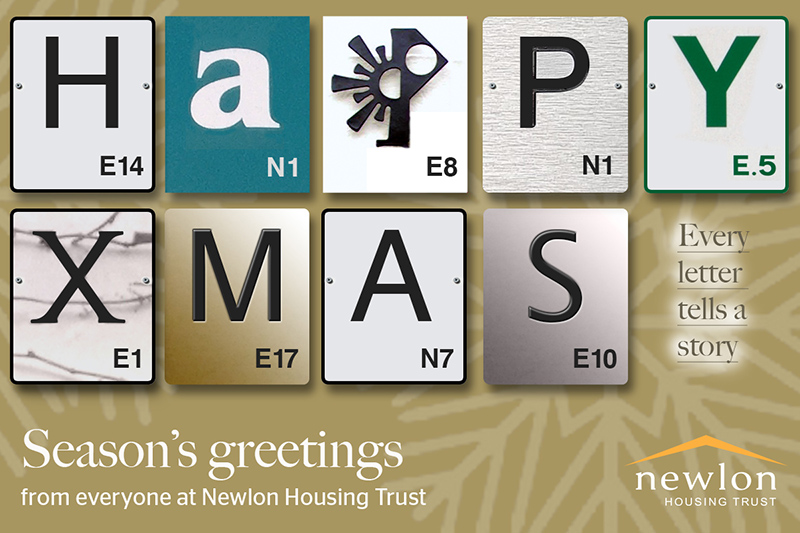 This year we thought that we would make a tiny break with tradition and make a festive greeting that truly reflects the range of affordable homes we provide.
Each of the letters comes from a street or block sign where we provide housing. We are truly proud that we provide affordable homes to more than 30,000 people in boroughs across north and east London.
Here is a snippet about where each of these letters were photographed.
Horseferry Road E14 – our homes in Horseferry Road were our first ever purpose-built Shared Ownership housing. As far back as 1992, when these homes were completed, we were helping people take an affordable first step towards owning their own home.
Barnsbury Estate N1 – the Barnsbury Estate was our first ever stock transfer. Residents voted to transfer to Newlon in 1999 and we completed a range of major works on budget and on schedule.
Prospect House E8 – at this small block near Ridley Road Market in Dalston we revamped the communal areas of the block with direct input from residents. This funky letter 'P' comes from the updated signage for the building which was designed by a local artist based on residents' ideas.
Phelps Lodge N1 – Phelps Lodge is a recent Shared Ownership development on the edge of the Barnsbury Estate. Proceeds from the part sale of the homes helped fund a new purpose built Community Centre for the Estate's residents.
Sunnyhill Close E5 – situated by the River Lea in Hackney, Sunnyhill Close is at the heart of the area where Newlon first developed or renovated homes for local people in housing need. We provide over 2,000 homes in Hackney, where we bought our first two properties to convert into flats for affordable homes in 1968.
Buxton Street E1 – is the site of one of the many schemes where we provide high quality supported housing for adults with learning disabilities in partnership with our care and support partner Outward. Residents here are particularly proud of their garden.
Tower Mews E17 – is our first landmark scheme in Waltham Forest and couldn't be more convenient for commuting as it situated in the centre of Walthamstow less than a minute's walk from the bus, tube and overland stations.
Queensland Road N7 – is at the heart of the Arsenal Regeneration Area. The programme that supported Arsenal FC's move from their historic home at Highbury to Emirates Stadium is one of Europe's largest regeneration programmes in the 21st century. We provide homes stretching in a mile long corridor from the former stadium site down to Caledonian Road. It remains the only regeneration project on this scale in London where 50% of all the new homes provided are affordable housing.
Siskin Apartments E10 – is our latest large scale development, a landmark brick clad tower overlooking the Olympic Park and Lea Valley. It is the first place we have also built some private homes, which will be sold to reinvest any profits in providing new affordable housing.