Highams Court Consultation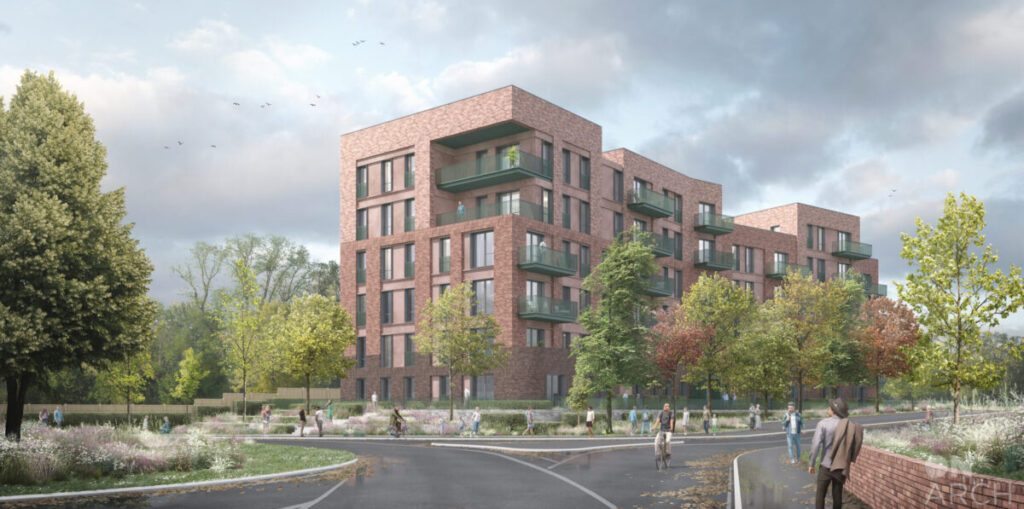 Highams Court, released by the NHS as part of their consolidation and disposal programme, has been disused since 2012. Newlon Housing Trust is now seeking its redevelopment to allow for the delivery of 46 affordable homes to help meet the housing needs of Waltham Forest. The proposal is for a part five, part six storey development comprising one, two and three bedroom family homes alongside improved public realm, amenity and play space and a programme of tree replanting and biodiversity enhancement.
The design team includes technical specialists advising on matters including landscape and trees, energy and sustainability, air quality, highways, noise and daylight and sunlight, all of which have been carefully considered within the proposed scheme.
BD Landscape Architects are working closely with both client and architect to ensure that the final scheme includes high quality public realm, amenity and play space as well as maximised opportunities for urban greening and biodiversity. The protected tree at the northern corner of the site will be retained and celebrated and where tree removal is required, including where trees have been identified as damaged or diseased, replacement planting is proposed. An area of communal amenity and play space is provided at the heart of the site, where it will be well used and is easily accessible from residential units. In addition, the southern corner of the site has been kept free from built development for use as a natural area, offering more informal amenity and the promotion of biodiversity objectives.
The development is car free, in line with both London and Local Plan requirements, and sustainable travel is promoted through the improvement of pedestrian links through the new public realm, as well as the provision of over 100 secure cycle parking spaces. Two accessible car parking spaces are provided on site, within easy access to the accessible ground floor units, for those who need them the most. Daylight and sunlight assessment shows that impacts on neighbouring amenity will be minimal, with the BRE's requirements in relation to overshadowing met in full and no anticipated impact on overlooking or privacy. Where a small number of surrounding windows do fall below the BRE recommended standards, further mitigation is being explored.
The development aims to meet zero carbon emissions, achieving relevant energy efficiency and sustainability standards, and a full Sustainability Report will be submitted as part of a full planning application.
For more information about the scheme proposals please see below.
We welcome your views. You can email highamscourt@newlon.org.uk or write us at Newlon Housing Trust, Newlon House, 4 Daneland Walk, N17 9FE. 
Comments and feedback should be provided by 8th December 2021 and will then be considered by the design team as part of the ongoing design evolution of this scheme.
Please do not use the live chat option at the side of this page as this is intended for current Newlon residents and cannot be responded to by the consultation team.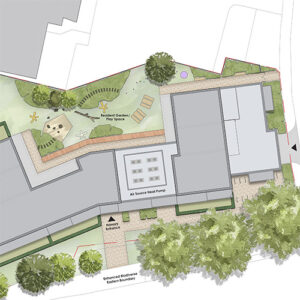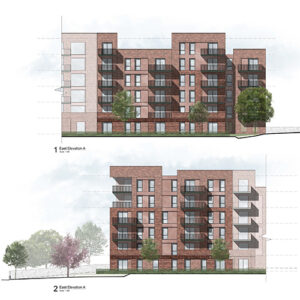 The façade has been developed to express a range of textures without being overcomplicated. The treatment of the elevation tries to place a strong emphasis on alternating brick bonds and forming steps and setbacks enabling a more active street frontage. These rebated elements will be formed in a different texture like a pigmented fibre cement panel, with a blended colour to compliment the brickwork.
The proposal of galvanised metal railing balconies will help provide some light and shade to the elevation and Juliette balcony railings have also been considered to provide more texture and break up the regularity of windows. The balconies to the South Eastern corner have been set back to provide a stronger emphasis to the corner of the main road.